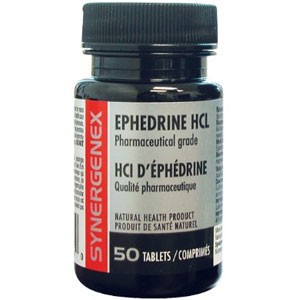 Sympathomimetic (adrenomimetic of indirect action); Alkaloid, obtained from various species of ephedra (Ephedra L.) family Ephedra (Ephedraceae). Ephedrine, contained in plants, is a levorotatory isomer. The racemate was synthesized, inferior in activity to the levorotatory isomer.
After the administration of ephedrine, α- and β-adrenergic receptors are excited: acting on varicose thickenings of efferent adrenergic fibers, ephedrine promotes the release of the noradrenaline mediator into the synaptic cleft. In addition, it has a weak stimulating effect directly on adrenoreceptors.
It stimulates the activity of the heart (increases the frequency and strength of contractions), facilitates AV-conduction, increases blood pressure, causes bronchodilator effect, suppresses intestinal motility, dilates the pupil (without affecting accommodation and intraocular pressure), improves skeletal muscle tone, causes hyperglycemia.
Unlike epinephrine, the effect of ephedrine develops slowly, but lasts longer. With the repeated administration of ephedrine with a short interval (10-30 min), its pressor action rapidly decreases – tachyphylaxis (rapid addiction) occurs, associated with a progressive decrease in norepinephrine stores in varicose thickenings.
Ephedrine stimulates the central nervous system, by psycho-stimulating action is close to phenamine.
Pharmachologic effect:
Vasoconstrictor, hypertensive, a bronchodilator, hyperglycemic, psychostimulant. Stimulates alpha and beta-adrenergic receptors, it inhibits the activity of MAO-and catecholamines ortometil transferase. Has a positive ino-, chrono, dromo- action and batmotroponoe
Mode of application:
Apply ephedrine inside (to food), under the skin, muscles and veins, as well as locally. In sharp decline in blood pressure showed a slow intravenous; in infectious diseases, the spinal anesthesia, etc. – subcutaneous or intramuscular administration..; in bronchial asthma and other allergic diseases are usually administered inside. Inside designate an adult to 0.025-0.05 g 2-3 times a day. The course of treatment typically lasts 10-15 days. You can also designate a cycle of 3-4 days with 3-day intervals. When enuresis prescribed bedtime. In bronchial asthma ephedrine used in combination with theophylline, diphenhydramine, calcium gluconate and other means. Children designate ephedrine inside in the following doses: the age of 1 year – for 0,002-0,003 g; 2-5 years – 0,003-0,01 g; from 6 to 12 years – 0.01-0.02 g per reception. Under the skin, and intramuscularly administered to an adult of 0.02-0.05 g 2-3 times a day; administered intravenously to adults jet (slowly) by 0.02-0.05 g of (0.4-1 mL of a 5% solution) or the drip method in 100-500 ml of isotonic sodium chloride solution or 5% glucose solution in the total dose of 0, 08 g (80 mg). Higher doses of ephedrine for adults inside and under the skin: single – 0.05 g daily – 0.15 In ophthalmological practice using 1-5% solutions (eye drops). When vasomotor rhinitis (inflammation of the nasal mucosa) – 2-3% solutions. Ephedrine is used only on prescription. Ephedrine should not be used for a long time. In order to avoid sleep at night should not be given ephedrine and products containing it at the end of the day and before bedtime.
Product form:
Powder; pills to 0,002; 0.003 and 0.001 g (for pediatric); 5% solution (for injection) in a 1 ml ampoule; 2% and 3% solutions in vials of 10 ml (for ENT practice).
Indications:
Rhinitis (including catarrhal, vasomotor), sinusitis, hay fever, hypotension (collapse, shock, surgery, spinal anesthesia, trauma, hemorrhage, bacteremia, overdose ganglioblokiruyuschih, blockers and other antihypertensive drugs.); bronchial asthma, urticaria, serum sickness (as part of combination therapy); narcolepsy, depression, sleeping drugs poisoning and drugs, bleeding of the gums and the tooth pulp; Diagnosis in Ophthalmology (for pupil dilation).
Contraindications:
Hypersensitivity to the Ephedrine hydrochloride, insomnia, GOKMP, pheochromocytoma, ventricular fibrillation, uncontrolled hypertension and tachycardia. C care. Metabolic acidosis, hypercapnia, hypoxia, atrial fibrillation, angle-closure glaucoma, pulmonary hypertension, hypovolemia, myocardial infarction, occlusive vascular disease (including history): arterial embolism, atherosclerosis, Buerger's disease, frostbite, diabetic occlusive disease, Raynaud's disease; CAS disease (including angina, tachyarrhythmia, ventricular arrhythmia, coronary insufficiency, arterial hypertension), diabetes mellitus, hyperthyroidism, benign prostatic hyperplasia, means for simultaneous application inhalation anesthesia.
Side effects:
From the nervous system: more often – headache, sleep disturbance; less often – fatigue, nervousness, restlessness, dizziness; the frequency is unknown – convulsions, muscle spasms, tremors, numbness in the hands or feet, sleepiness; when used in high doses – hallucinations, mood changes, or psyche. From the CCC: less frequently – angina pectoris, bradycardia or tachycardia, palpitations, increased or decreased blood pressure at high doses – ventricular arrhythmias; rarely – discomfort or pain in the chest; the frequency is unknown – unusual bleeding, redness of the skin. From the digestive system: more often – nausea, vomiting;less frequently – dryness or irritation of the oral cavity or pharynx (for parenteral use), loss of appetite; the frequency is unknown – heartburn. From the urinary system: less often – shortness, and painful urination.Local reactions: pain or a burning sensation at the site of the / m injection. Others: less often – sweating, pale skin; peripheral vasoconstriction, allergic reactions to components Ephedrine hydrochloride, breathlessness or shortness of breath, vomiting, pyrexia, mydriasis, blurred vision. An overdose of ephedrine hydrochloride. Symptoms: severe weakness, agitation, insomnia, urinary retention, excessive increase in blood pressure, loss of appetite, vomiting, increased sweating, rash. Treatment: the excessive hypertensive effect to reduce the rate of introduction or administration of ephedrine hydrochloride temporarily discontinued if inefficiently – alpha-blockers short action.